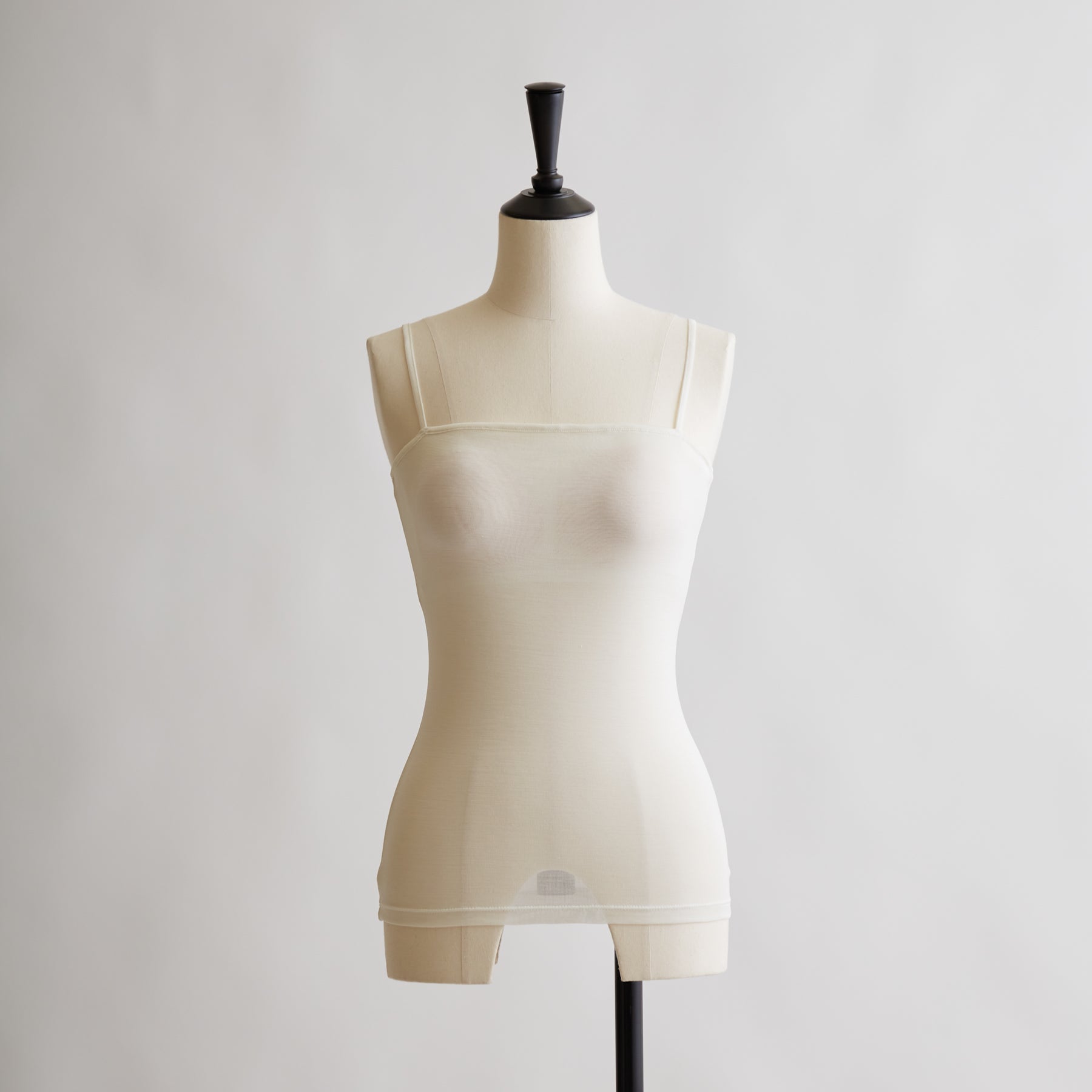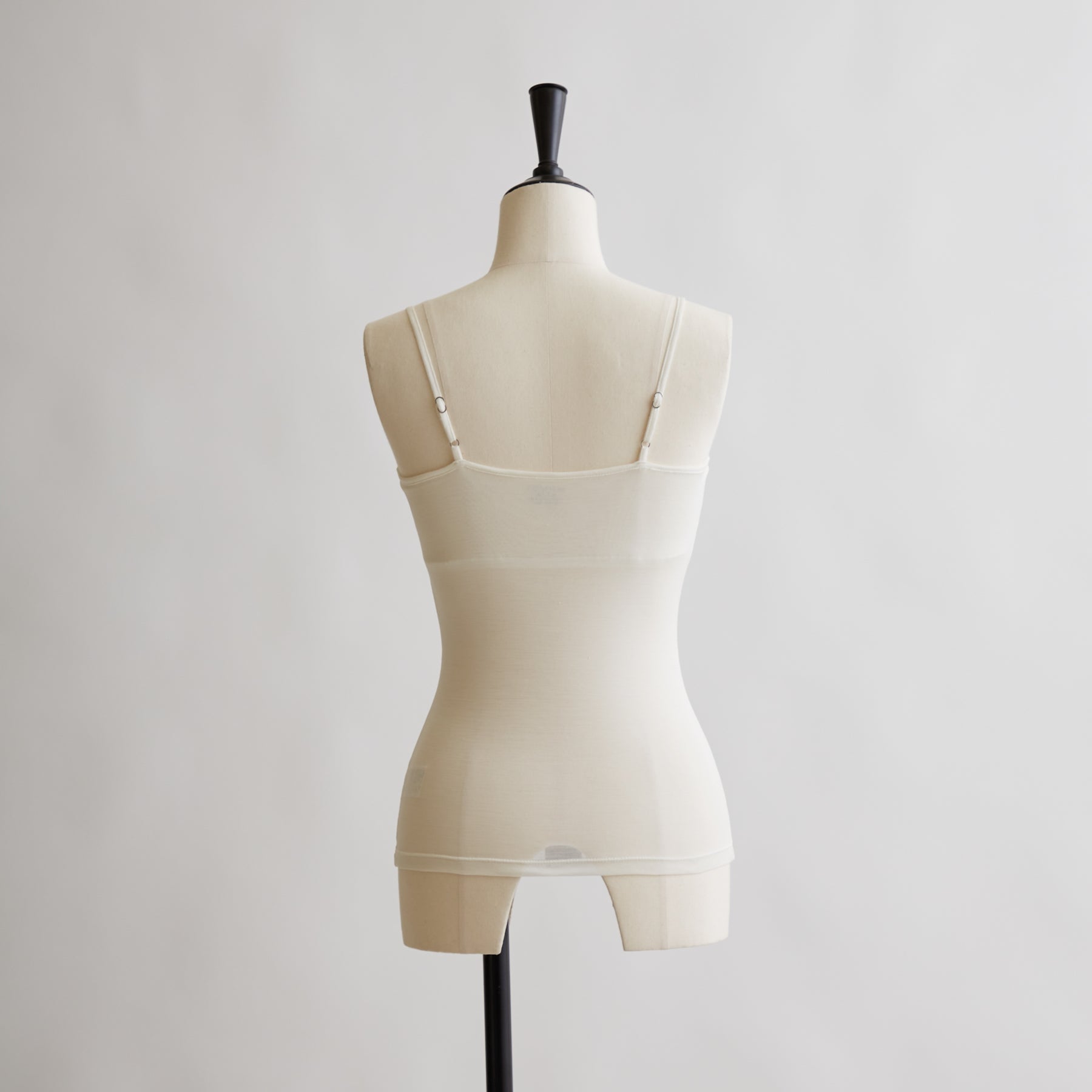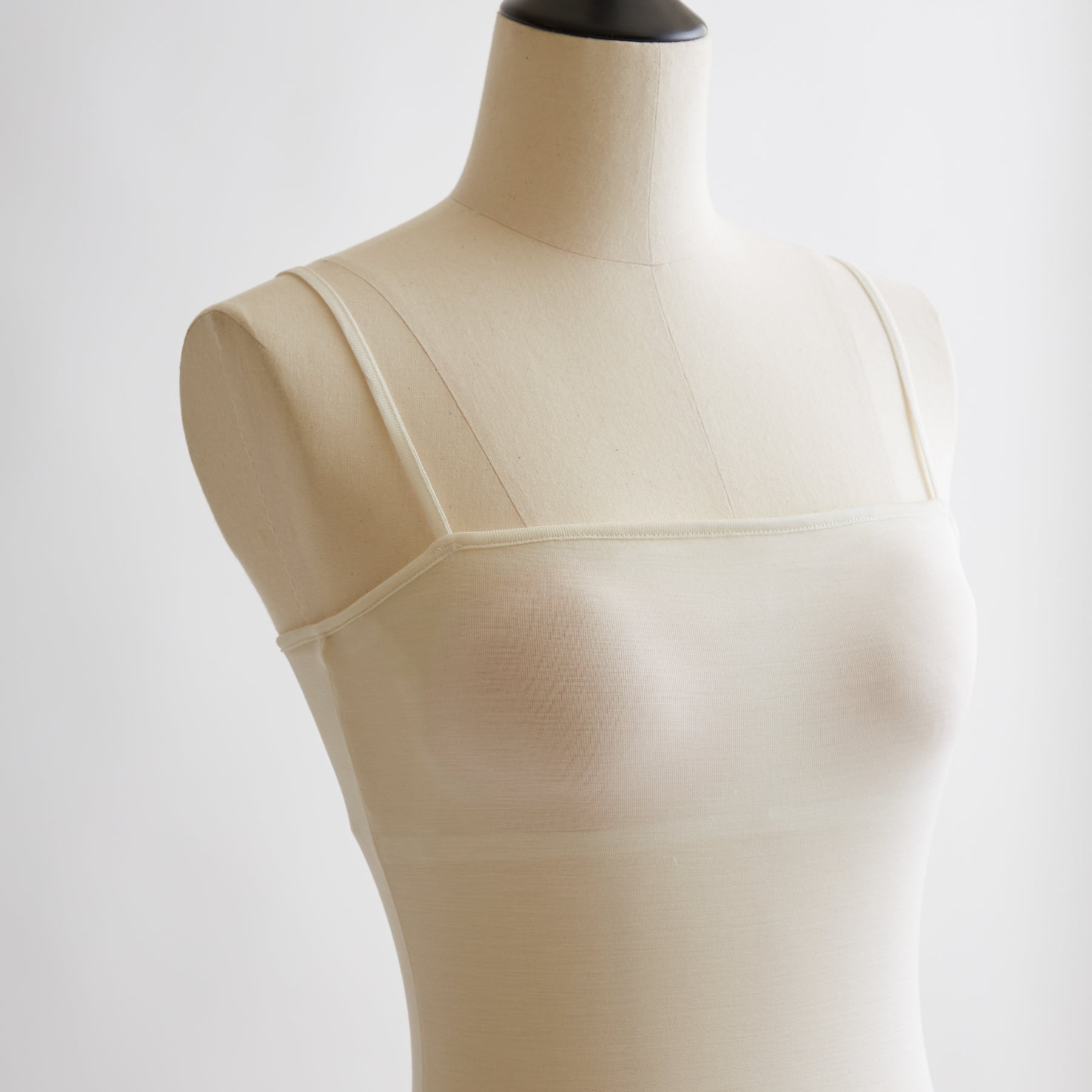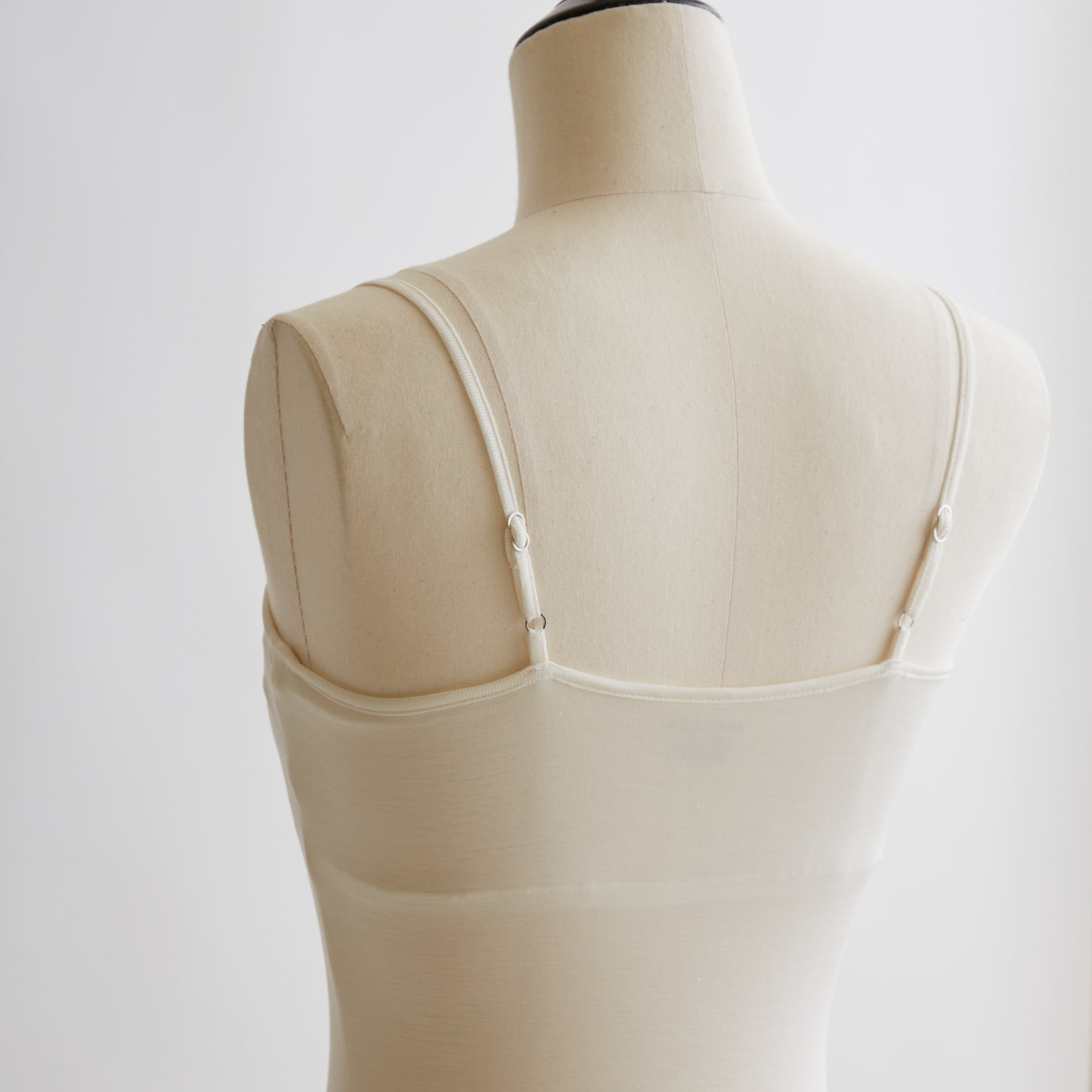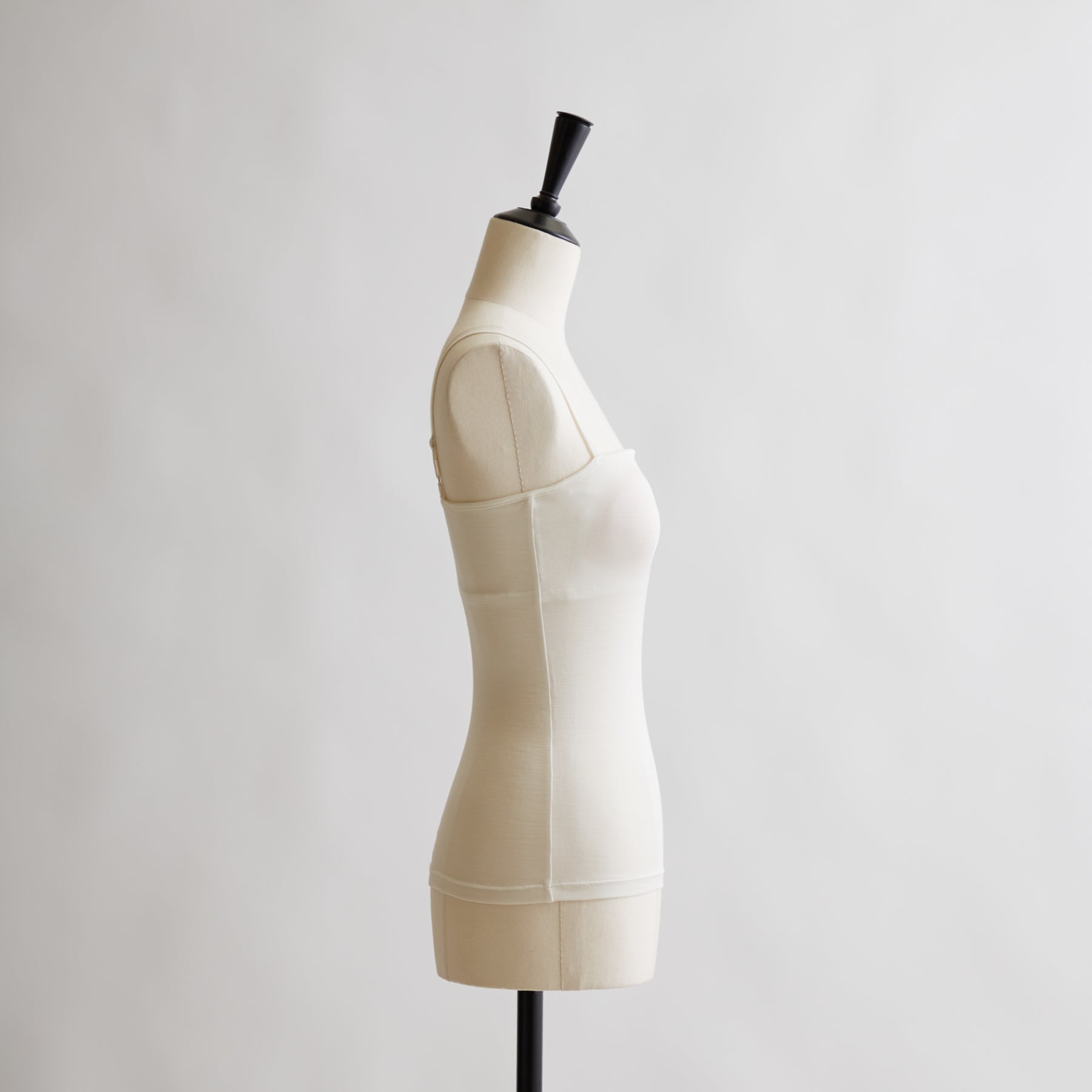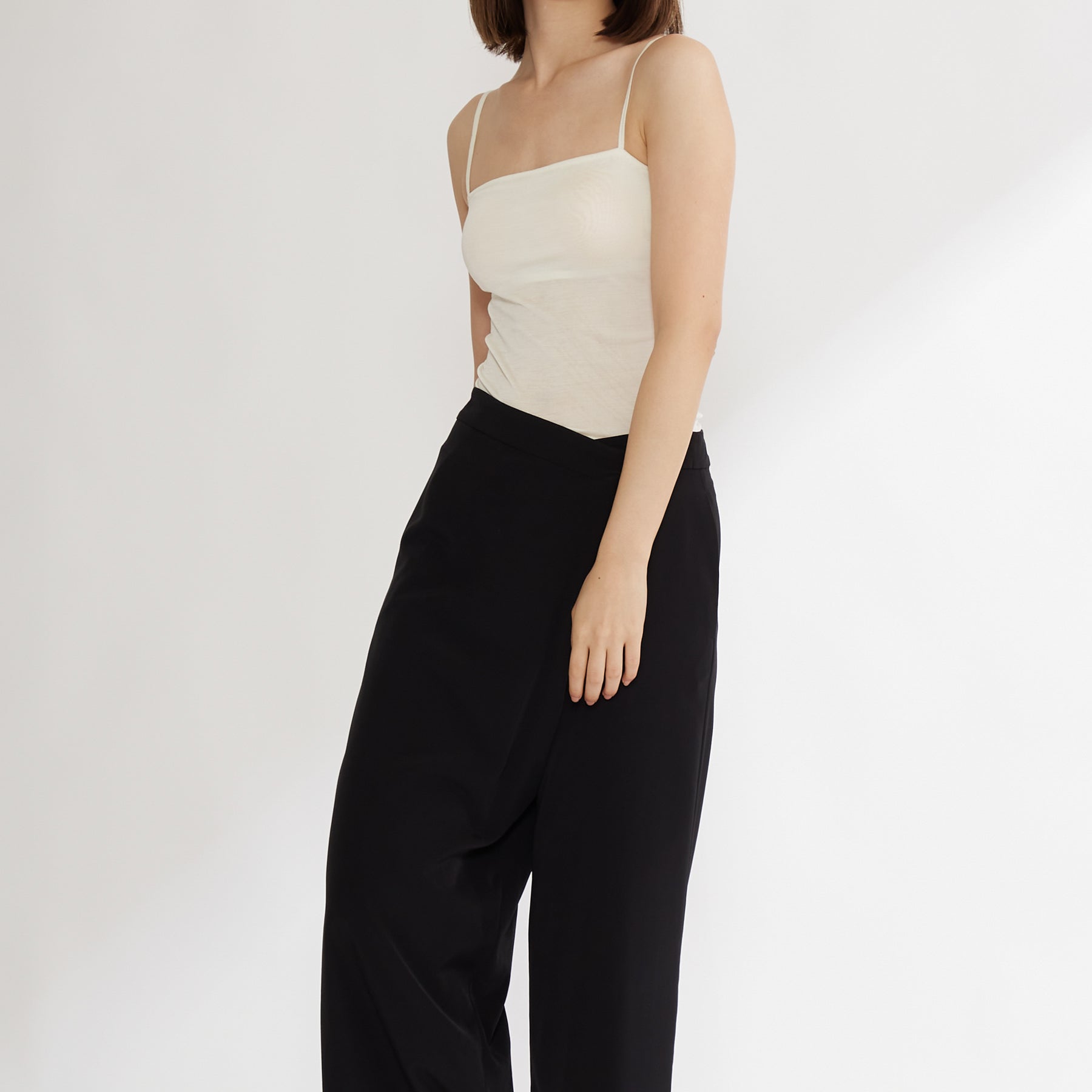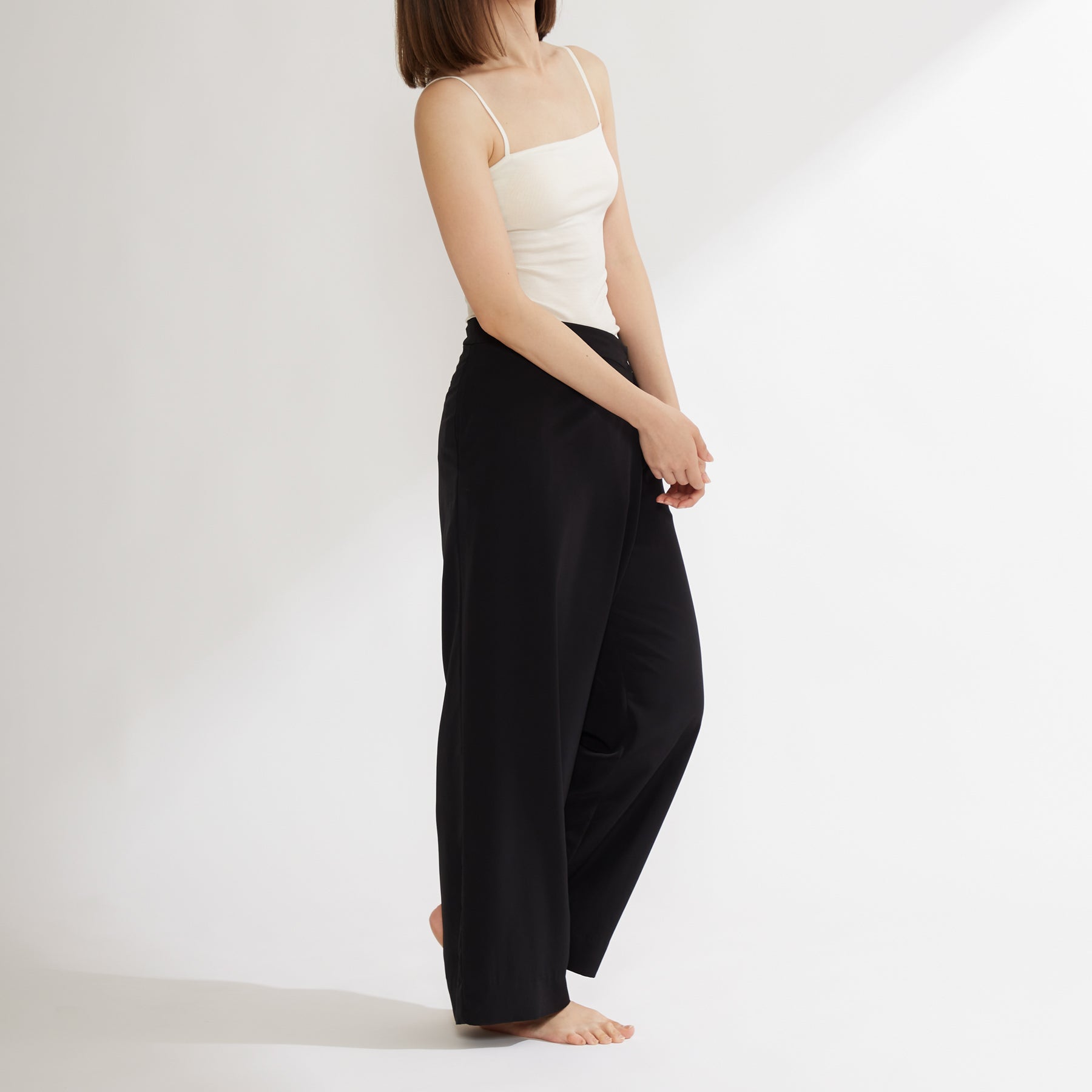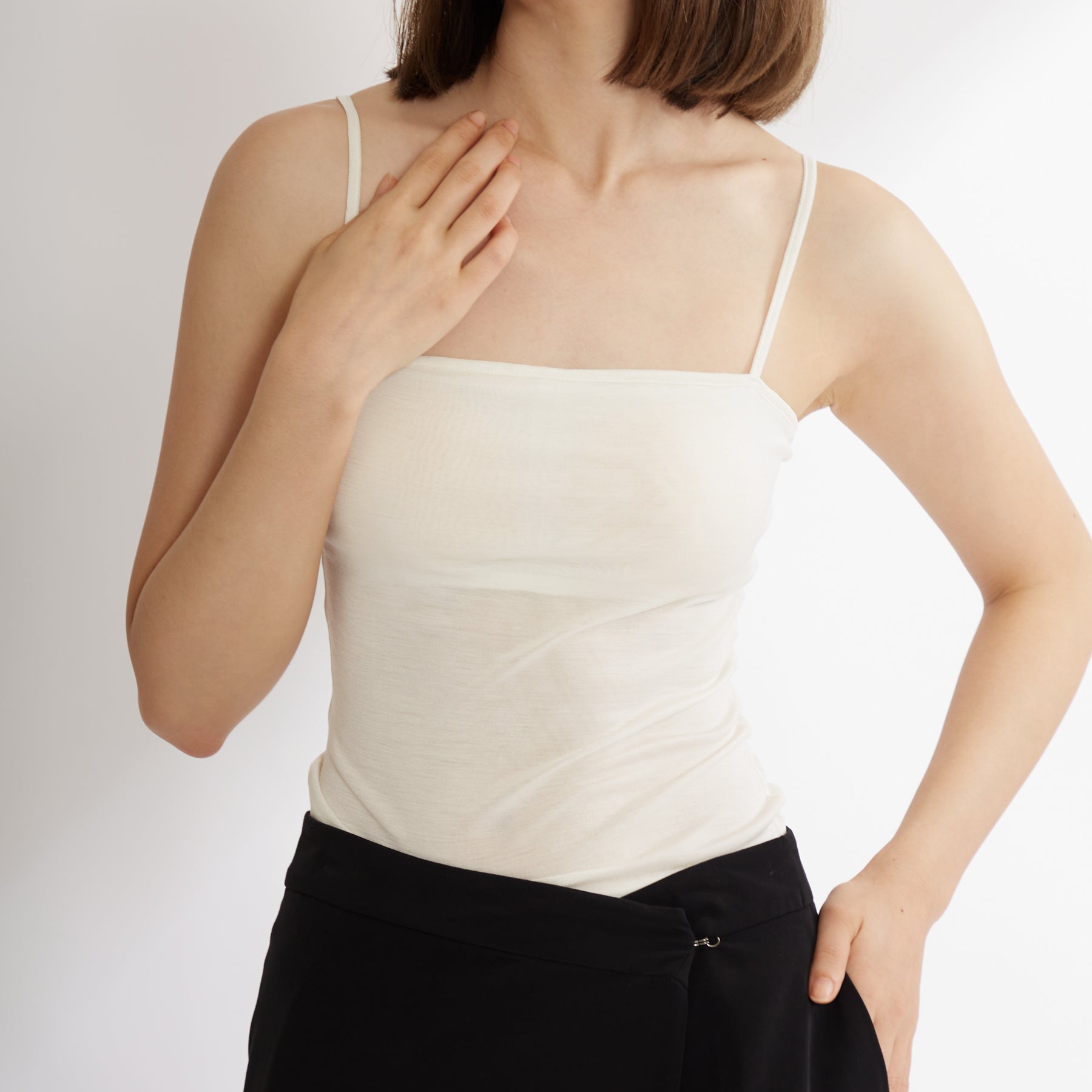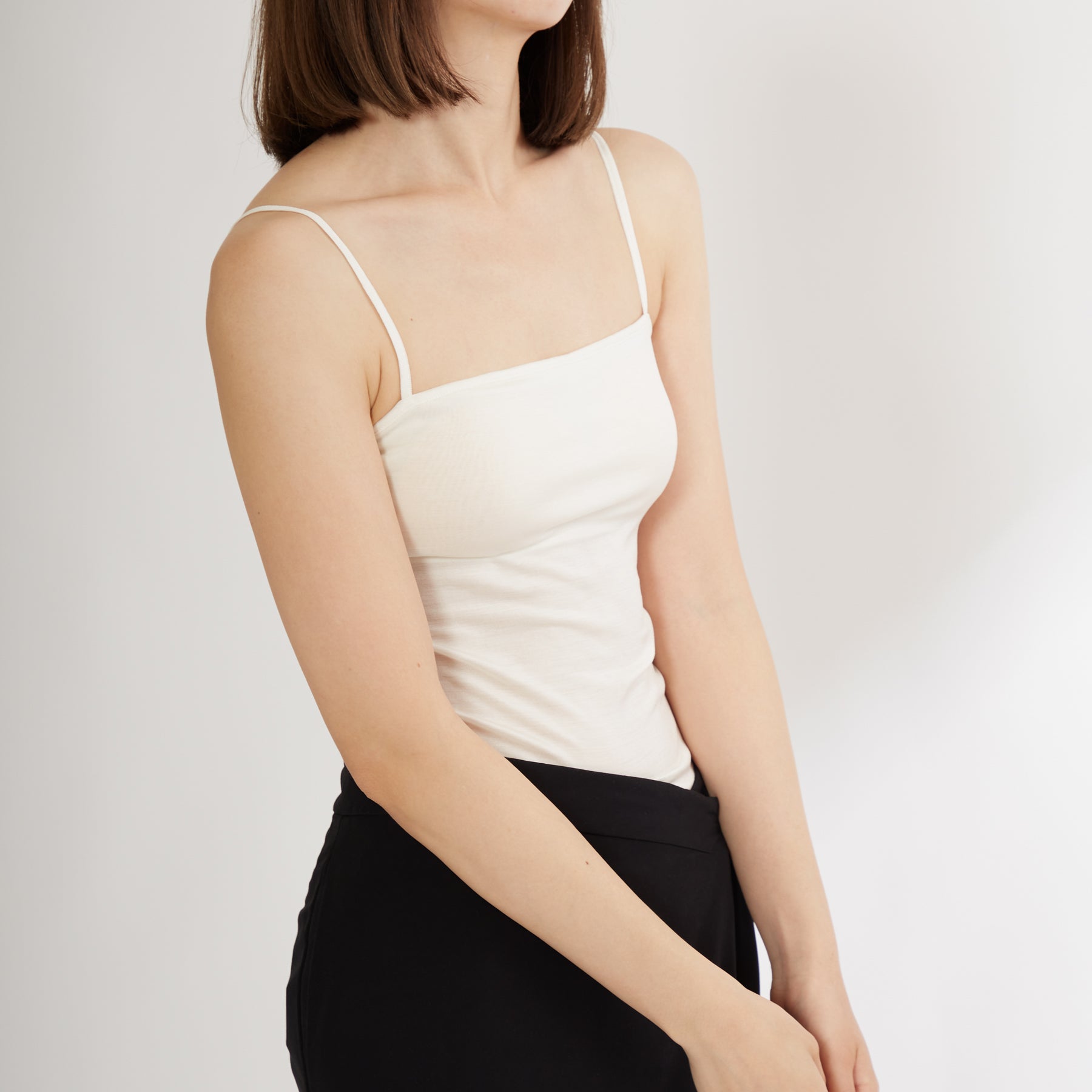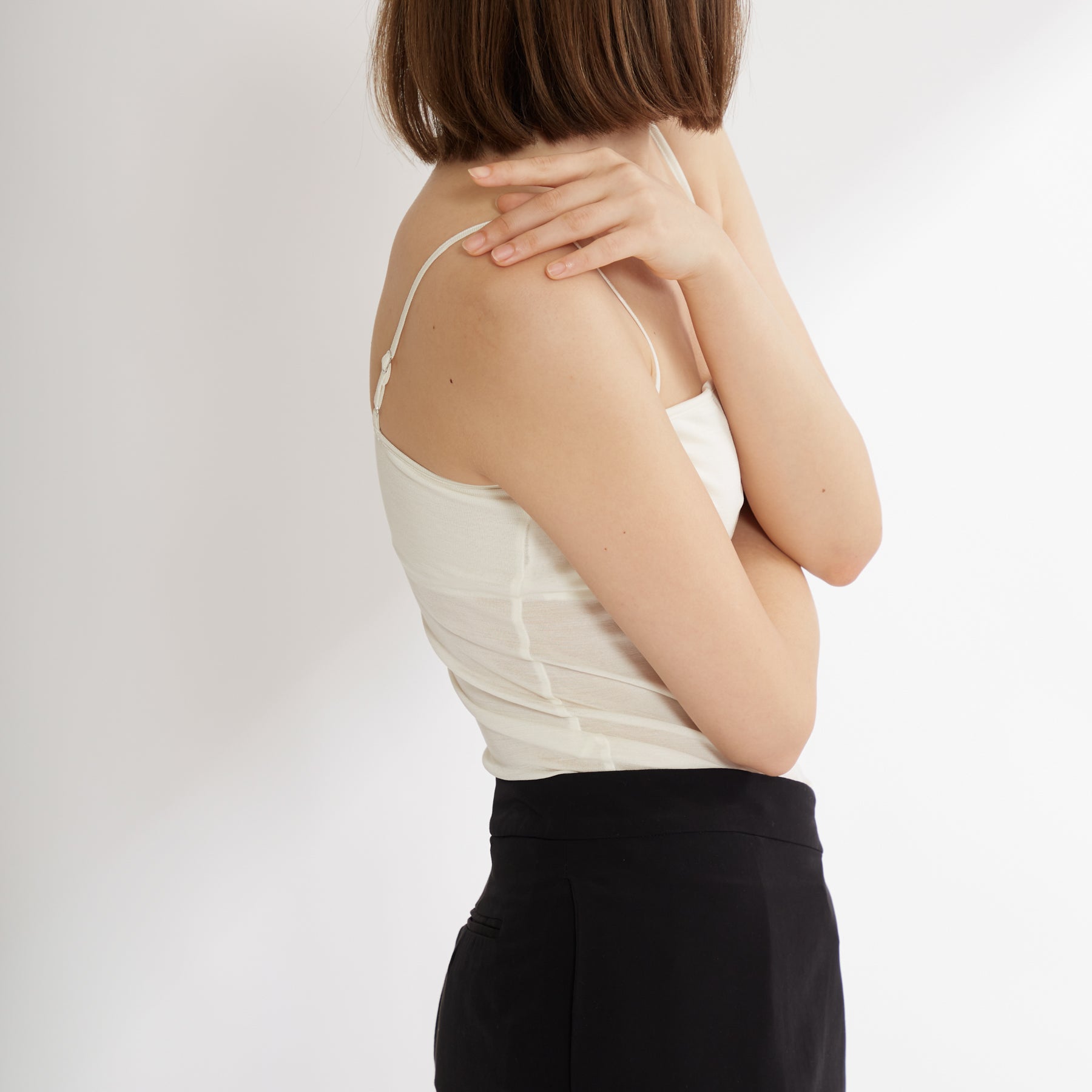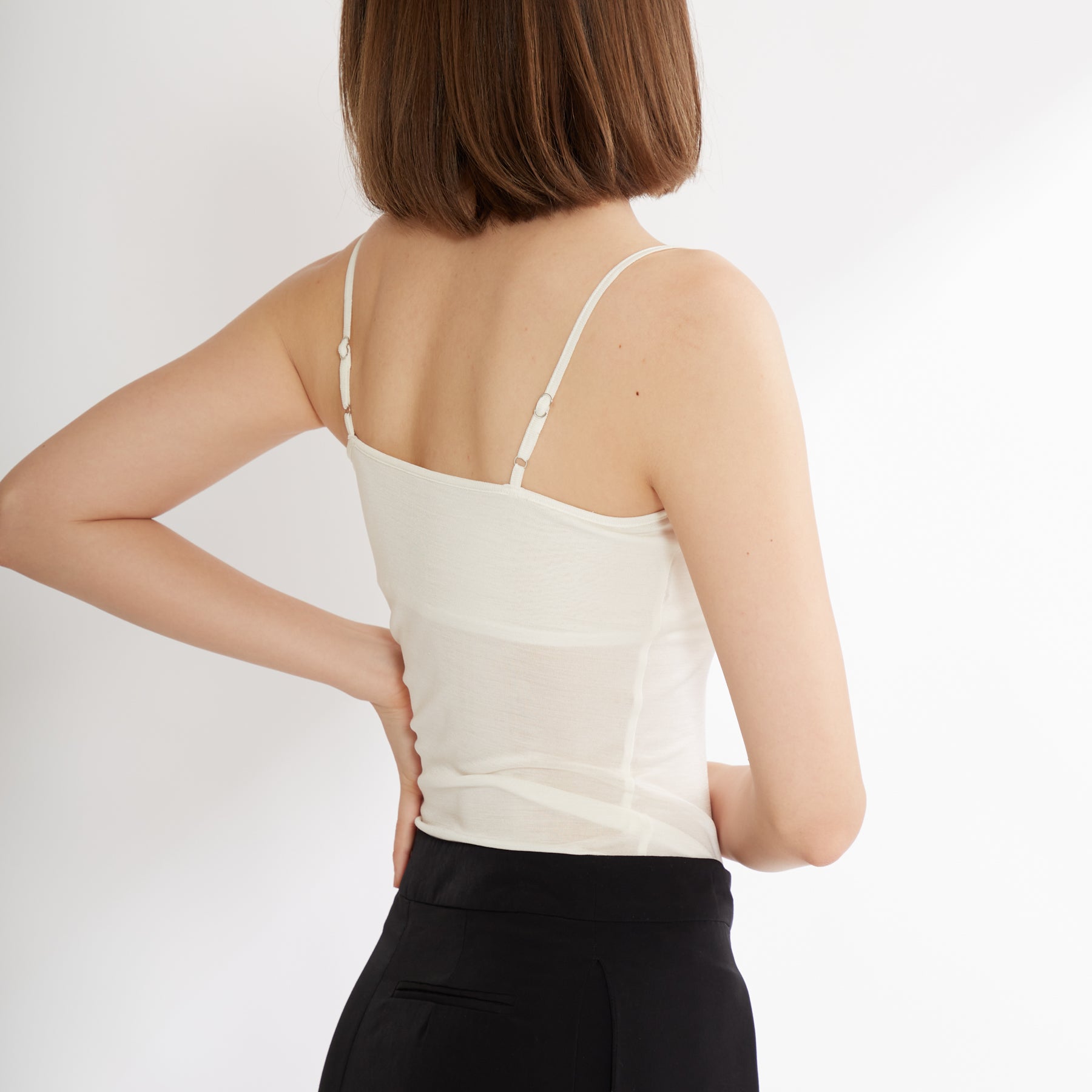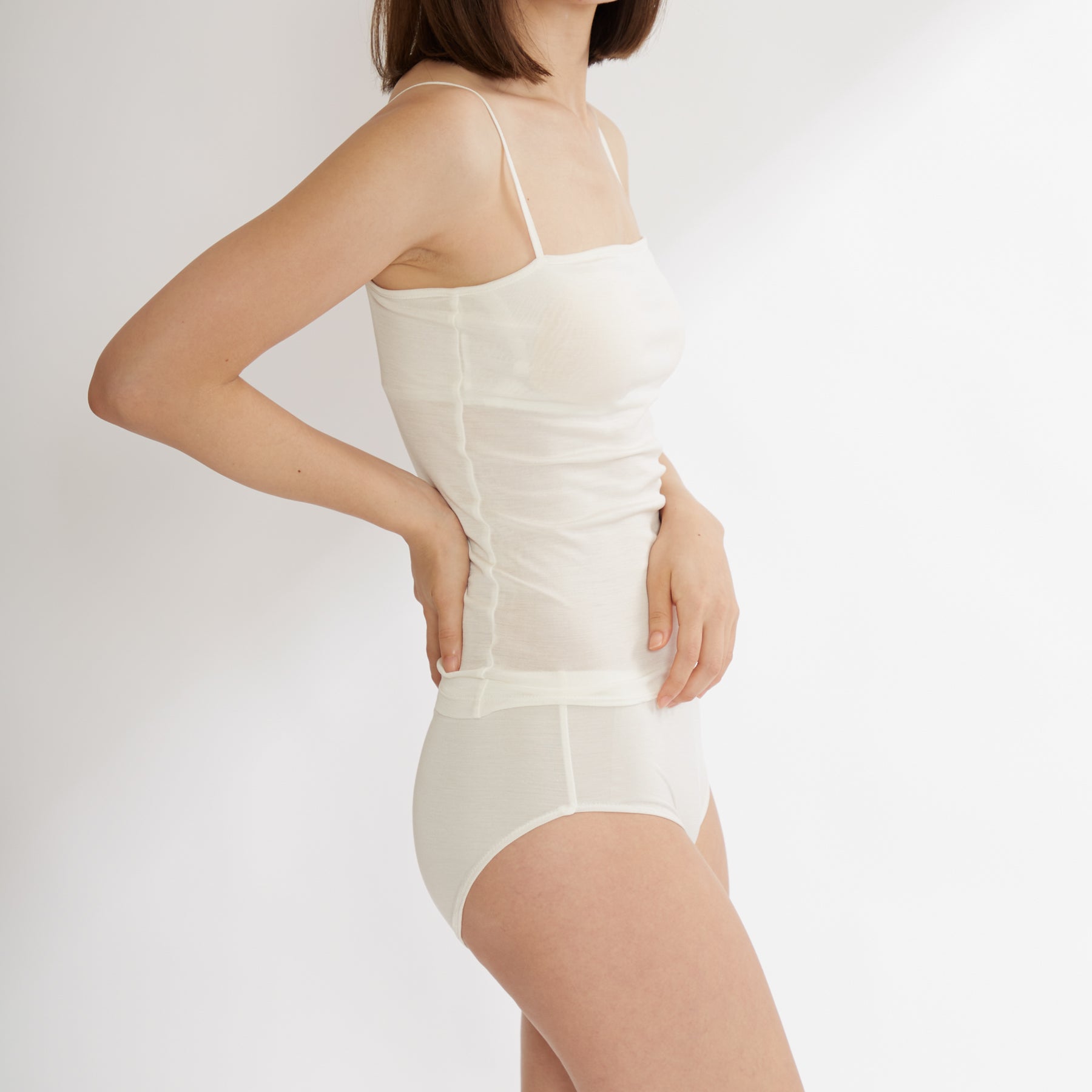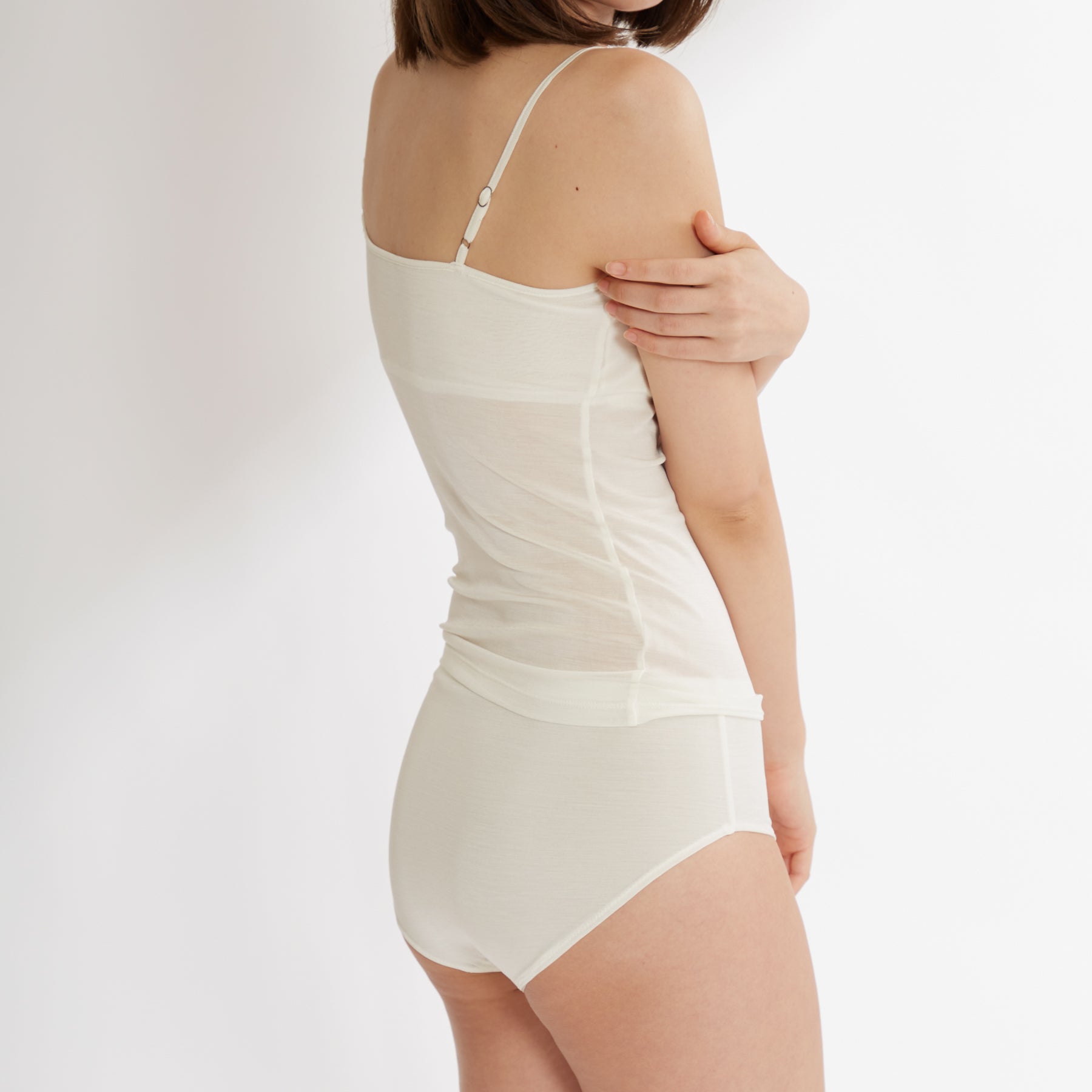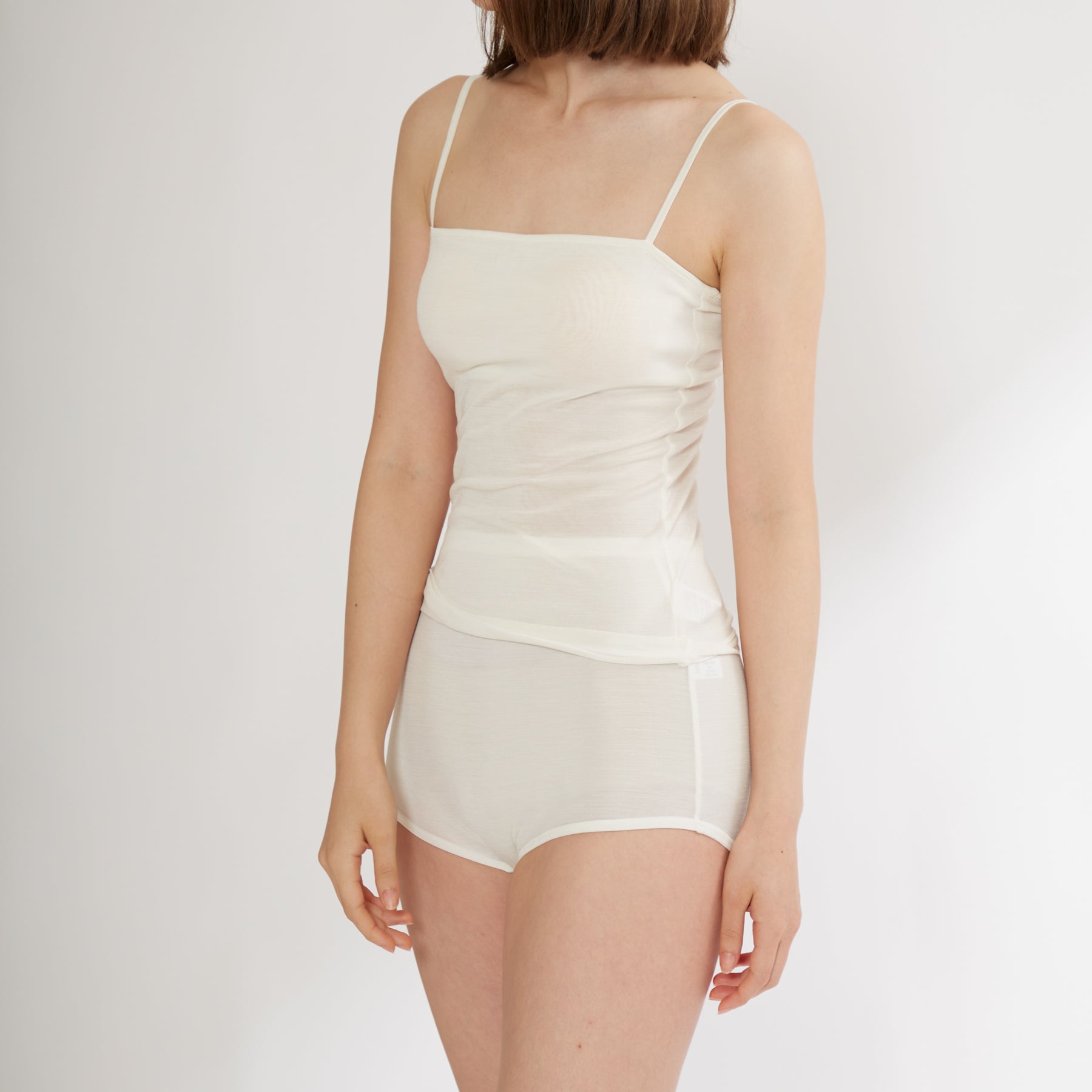 100% Silk Bare Camisole with Bra in White (2023SS model)
Sale price

$145.00
Regular price
(/)
---
Out of stock
Out of stock
Out of stock
This is the old model before the October 2023 update and will be discontinued once the remaining stock is sold out. For the latest model, please click here.
For more information on the differences between the old and new models, please see this article.
Bare top type Camisole with Built-in Bra, using fine 100% silk circular rib knit. Our unique silk fabric lightly adheres to your body. A gently hugging, snug fit.
Learn more about MUUGI's silk fabric.
Camisole with a slightly low straight across cut. An ideal balance of security and beauty in the bust. Wear on its own for a confident, sensual look. Neckline designed to run perfectly straight across the chest.
Spaghetti shoulder straps use same silk fabric as body. Softly adheres to the body without digging in. Adjustable from the back. (Caution: Straps are not detachable.)
Cup is removable. Wear with a bra of choice, depending on preference.
Soft-fitting elastic band goes full circle under the bust, giving you gentle support.
Strap adjusters come in gold, silver, or black, stylishly complementing the camisole color.
More details about MUUGI's silk underwear.
White, in a shade of natural purity. Combined with silk's shine, White is the choice for a confident, clean look. This shade is slightly more cream white than a cooler white. In comparison with Ecru, it has stronger contrast with skin, making it more likely to show through from layered tops.
Made in Japan
Composition: 100% Silk (machine washable)
Each piece by MUUGI is made of natural material, and may differ a little in color and size.
We also have panties of the same color and material to complete your coordinate. (100% Silk Mid-Rise Panties, 100% Silk Mid-Rise Panties without Leg Band, 100% Silk Full Boyleg Briefs)
Need a guide to choose your size? Click here for more images of different sized models in MUUGI underwear.
For an image of the transparency when worn inside a white T-shirt, please click here. (There are also comparison images with other colors.)
To get a sense of how MUUGI is worn, see our lookbook. Photos show MUUGI's fabric color in different lighting.
See more images of different wardrobe styles.
Tips for 100% Silk Bare Camisole with Bra (2023SS model)
MUUGI Silk Fabric

MUUGI's unique silk fabric is knitted using the circular rib technique. This creates a comfortable horizontal stretch that hugs the body.
Our silk fibers are processed and made washable before being spun into yarn, so our silk is machine washable.
All our fabrics and garments are manufactured in Japan. An epitome of Japanese craftsmanship excellence.

For more information on our unique silk fabric, click here.
How to Wash and Care

Our 100% Silk Circular Rib Knit is made from 100% washable silk.

Use neutral detergent, detergent for silk, or 'Delicate Wash' detergent. Please refrain from using bleach.
Be sure to place your silks in the mesh laundry bag.
Be sure to select a cold, delicate cycle on your washing machine, which is usually called 'delicate' or 'Hand Wash'.

For more information on how to wash and care, click here.
About Shopping
Choose options