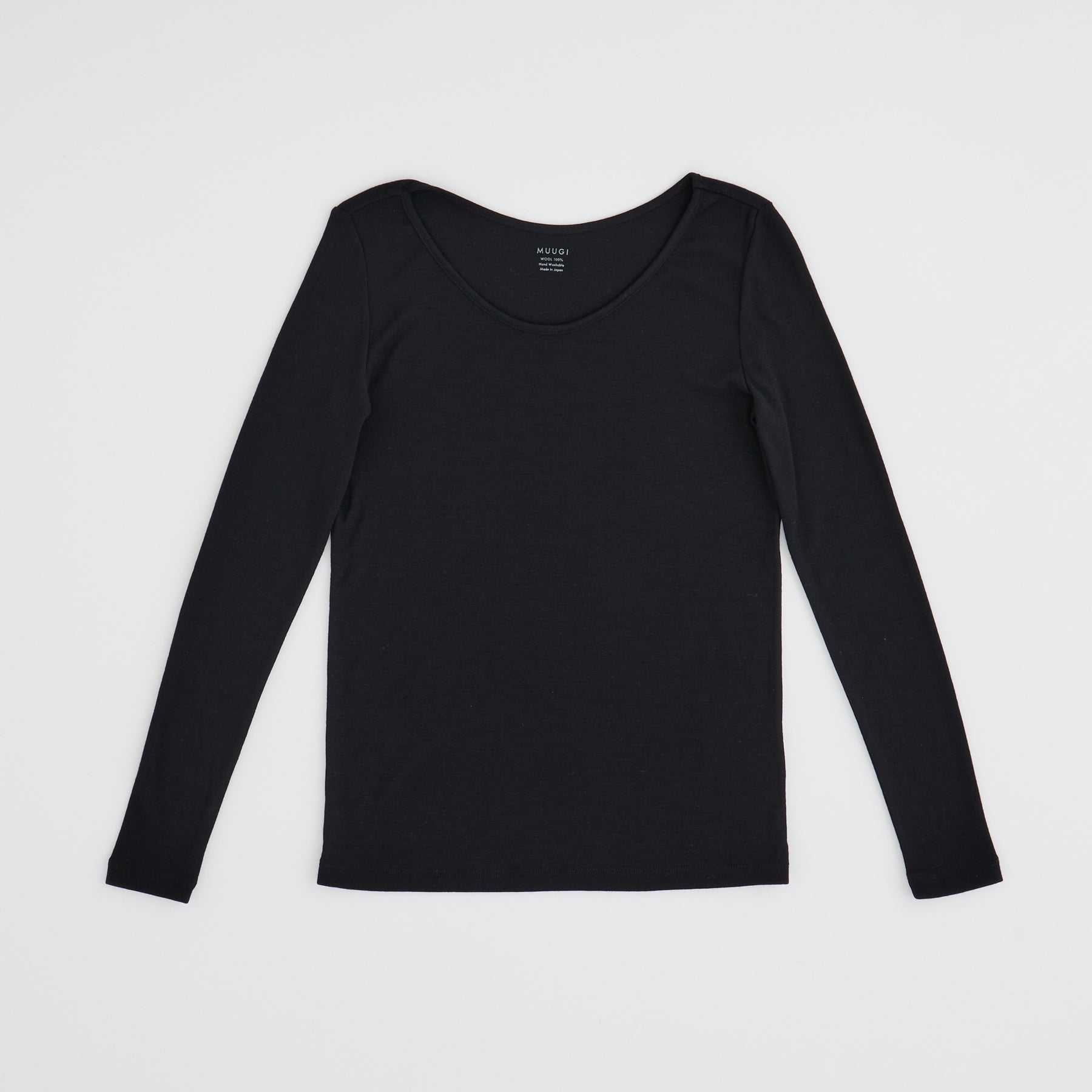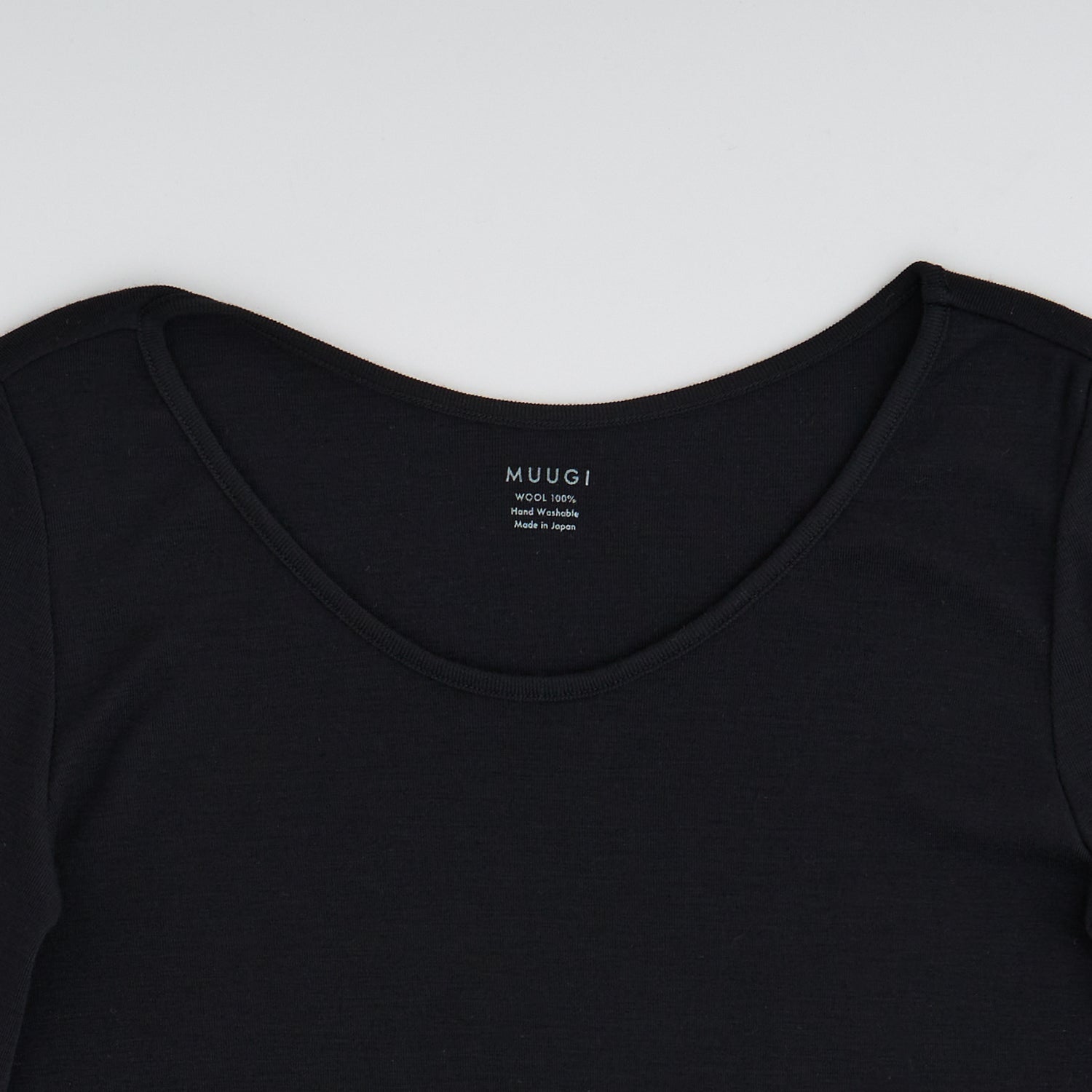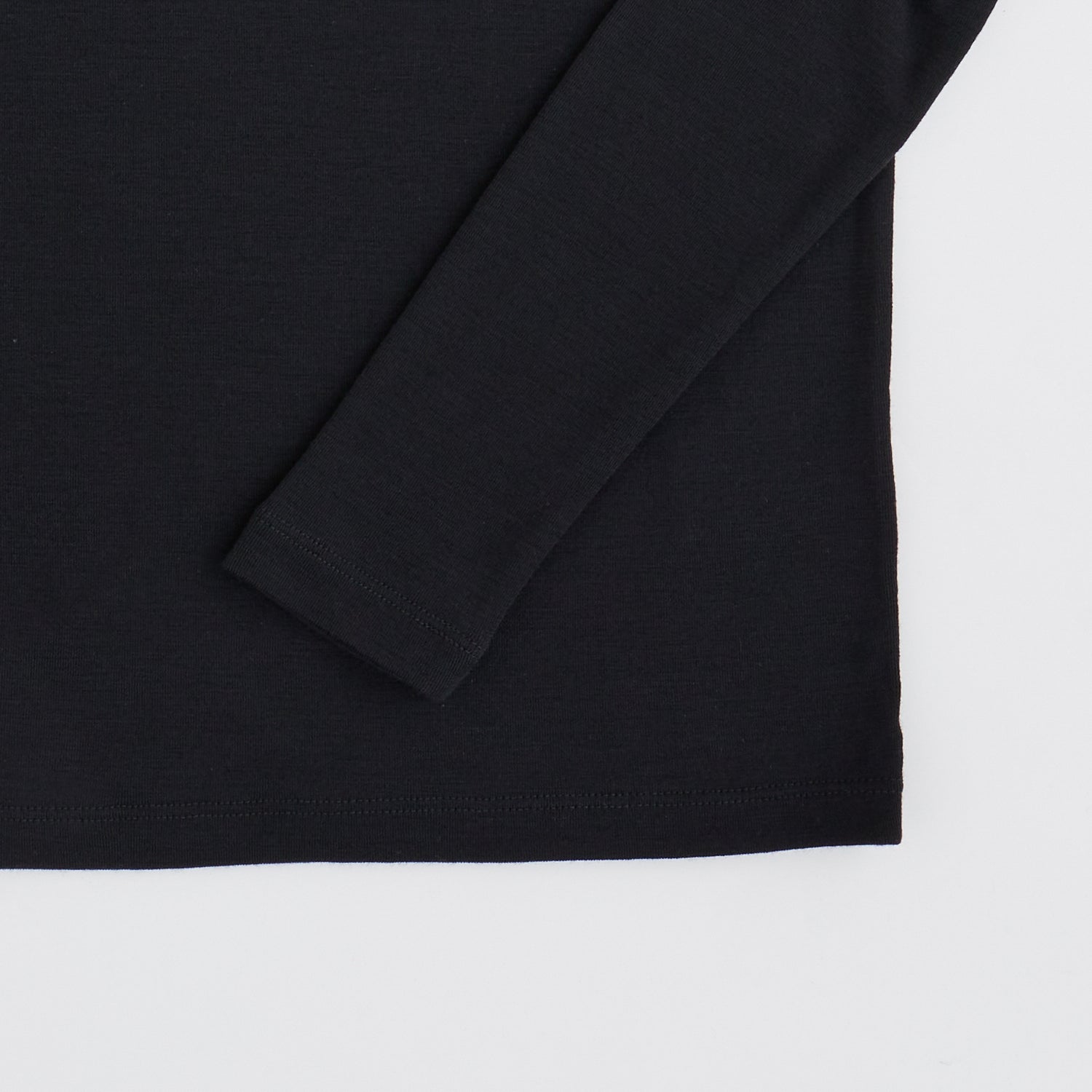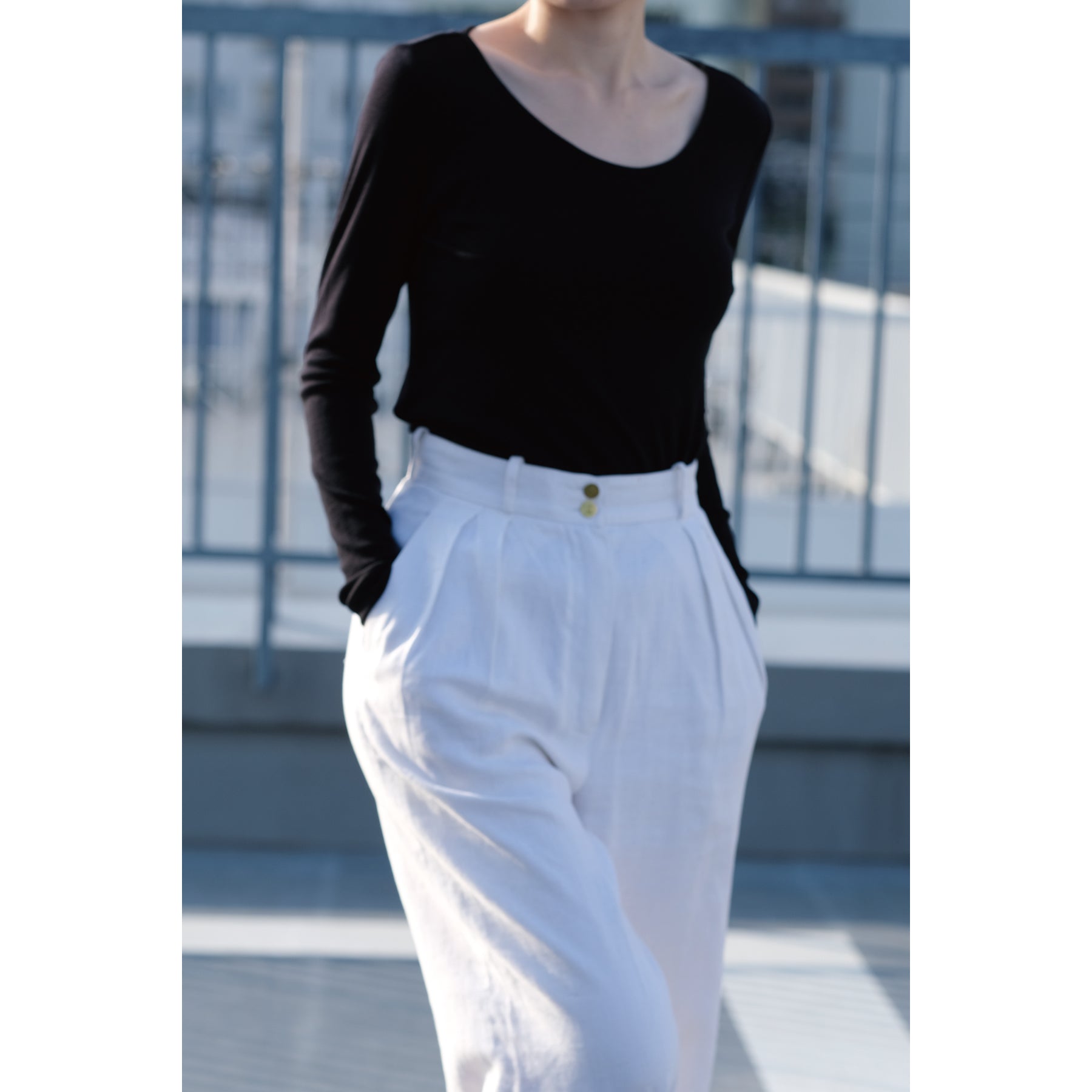 100% Merino Wool Circular Rib Scoop Neck Pullover in Black
Sale price

$200.00
Regular price
(/)
---
Scoop Neck Pullover, using 100% ultra-fine Merino Wool circular rib knit.
The circular rib fabric we've created is made from 100% ultra fine 14.5 micron Merino wool (Super 180's), which is extremely rare in the market. This fabric is exceptionally smooth and soft, with high horizontal stretch for a comfortable fit. It's the ideal basic top, offering a luxurious feel, even for those sensitive to wool's itchiness. With excellent insulation and moisture-wicking properties, it's perfect for three out of four seasons, except the hot season.
Learn more about MUUGI's Super 180's Merino Wool.
Featuring a scoop neckline, it's designed with just the right amount of openness to create an elegant impression, making it easy to wear on its own.
The back body also has a slightly wider neckline. This creates a beautifully curved line that extends from the broad neckline of the front body to the neckline of the back body.
The sleeves are slightly slim and full-length.
A versatile piece for your AW styling, you can wear it on its own or use it as accent colors when layering.
The deep black, in harmony with the soft texture of wool, creates a luxurious style.
Made in Japan
Composition: 100% Merino Wool
Each piece by MUUGI is made of natural material, and may differ a little in color and size.
Need a guide to choose your size? Click here for more images of different sized models in this product.
To get a sense of how MUUGI is worn, see our lookbook.
Tips for 100% Merino Wool Circular Rib Scoop Neck Pullover
Super 180's Merino Wool Circular Rib Fabric

Circular rib fabric using a very rare 100% ultra fine Merino Wool yarn at 14.5 microns (Super 180's), which is hardly available in the market.
All our fabrics and garments are manufactured in Japan. An epitome of Japanese craftsmanship excellence.

For more information on our ultra-fine merino wool, click here.
How to Wash and Care

Our 100% Merino Wool Series uses ultra fine 14.5μ fibers, equal to or finer than cashmere, with a shrink-resistant finish that can be washed in water at home.

Be sure to use neutral detergent, or 'Delicate Wash' detergent. Use of a mild alkaline detergent may cause shrinkage. Use of fabric softener is also recommended. Please refrain from using bleach.
Be sure to place your clothes in the mesh laundry bag.
Hand wash or select a cold, delicate cycle on your washing machine, which is usually called 'delicate' or 'Hand Wash'.

For more information on how to wash and care, click here.
About Shopping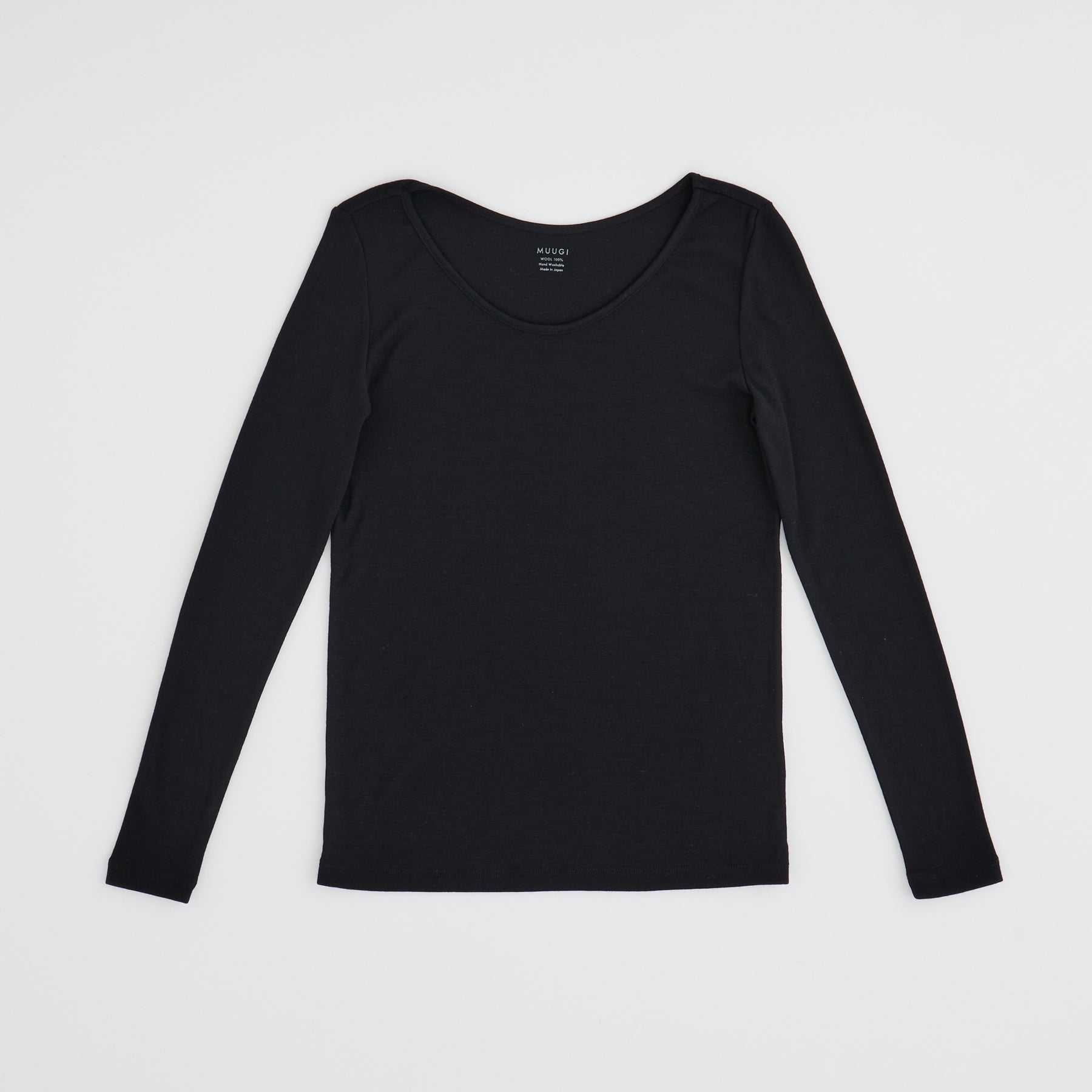 100% Merino Wool Circular Rib Scoop Neck Pullover in Black
Sale price

$200.00
Regular price
Choose options