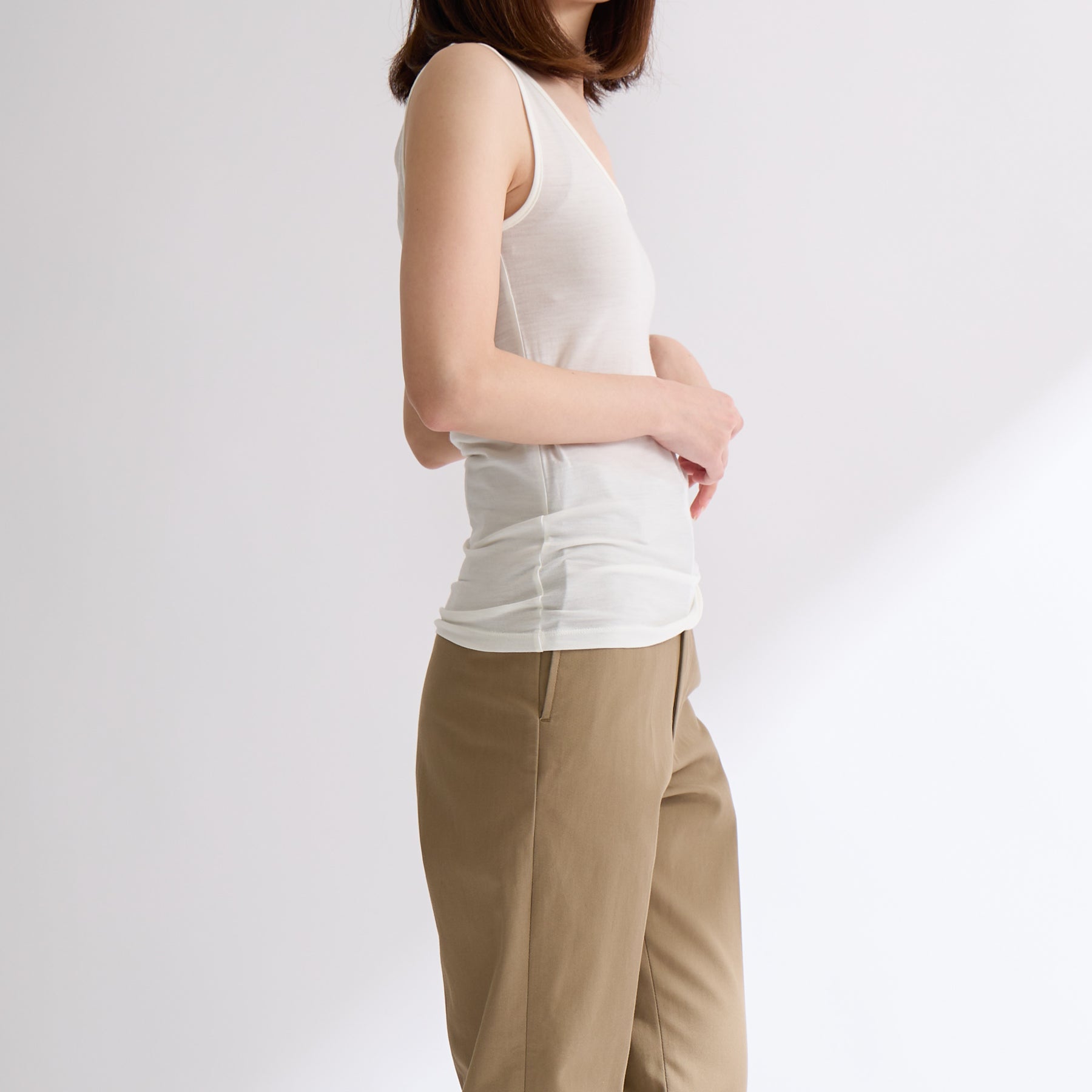 100% Merino Wool Jersey Tank Top in White
Sale price

$110.00
Regular price
(/)
---
Simple Tank Top, using 100% ultra-fine Merino Wool.
Our selective jersey stitched fabric is made from 100% ultra fine 14.5 micron (Super 180's) fibers, which are exceptionally rare in the market. This fabric is extremely soft and has a smooth, natural shine.
Learn more about MUUGI's Super 180's Merino Wool Fabric.
A tank top with shoulder straps that are not excessively narrow. Delicate yet substantial enough to conceal the straps of undergarments. You can wear it alone or layer it under see-through clothes.
The neckline, situated between a V-neck and U-neck, is designed to remain inconspicuous even when worn as an inner layer beneath shirts or tops with wider neck openings.
A versatile item that can be worn year-round, offering the functionality of Merino Wool and a gentle, comfortable feel.
Its thermo-regulating and moisture-wicking properties keep you cool in warm conditions and dry from perspiration.It maintains warmth in the cold. All-natural breathability and frictionless against skin. Recommended for sensitive skin that is prone to irritation caused by synthetic wear. The fibers are naturally antibacterial and odor-resistant, reducing the need for frequent washing. Good for activewear and convenient for travel.
This series is Woolmark certified, signifying it meets the quality standards set by the Woolmark Company.
White, with its gentle warmth and subtle yellow undertones, exudes a sense of cleanliness and a natural atmosphere.
Made in Japan
Composition: 100% Merino Wool
Each piece by MUUGI is made of natural material, and may differ a little in color and size.
Need a guide to choose your size? Click here for more images of different sized models in this product.
See more images of different wardrobe styles.
Tips for 100% Merino Wool Jersey Tank Top
Super 180's Merino Wool Fabric

Using ultra fine 14.5μ (Super 180's) fibers, this extremely soft, jersey stitched merino wool fabric is rarely used in the market.
All our fabrics and garments are manufactured in Japan. An epitome of Japanese craftsmanship excellence.

For more information on our ultra-fine merino wool, click here.
How to Wash and Care

Our 100% Merino Wool Series uses ultra fine 14.5μ fibers, equal to or finer than cashmere, with a shrink-resistant finish that can be washed in water at home.

Be sure to use neutral detergent, or 'Delicate Wash' detergent. Use of a mild alkaline detergent may cause shrinkage. Use of fabric softener is also recommended. Please refrain from using bleach.
Be sure to place your clothes in the mesh laundry bag.
Hand wash or select a cold, delicate cycle on your washing machine, which is usually called 'delicate' or 'Hand Wash'.

For more information on how to wash and care, click here.
About Shopping
100% Merino Wool Jersey Tank Top in White
Sale price

$110.00
Regular price
Choose options